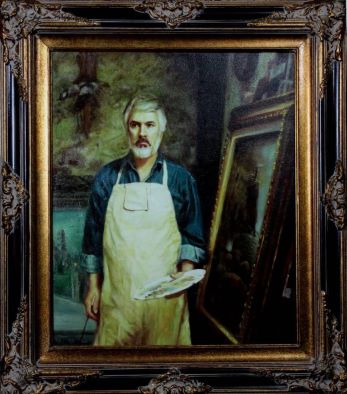 Naser D. Shahrivar is a fulltime professional visual artist and has been since childhood. Naser owned and operated a gallery for forty years and now sits on the backside of that as he creates his own works. He is a very diverse artist and specializes in realism and abstraction. Naser is a unique and prolific artist besides being his own worst critic; he works on more than one painting at a time. Currently Naser has roughly ten paintings in the works. He is a detail artist whether it is abstract or realism he puts great stride in perfecting every detail emphasizing on composition and color.
In his retirement years he has added the profession of published author and screenwriter to his achievements. Naser's latest achievements were to have had two of his abstract pieces of his works accepted into the 4th Annual New York Nil Galleries International Art Exhibition. His painting "Conversion" was selected and awarded as Best Painting among nearly six hundred entries. His painting "Morning Calm" a landscape was selected as top ten artists and featured in the International Artists Magazine.
He wrote and self-published his book "The Persian Lover" and published it as an e-book on Amazon/kindle and it received rave reviews as well as five out of five star ratings from his readers. His next big step was to take on the project of writing his first screenplay for his book which when it was completed he entered The Los Angeles International Screenplay competition and it was selected as a semifinalists. In doing these through Coverfly Screenwriting competitions this put his work on the Red List which offered it to professionals in the industry. His ultimate goal is to see his novel "The Persian Lover" come to life on the big screen. "The Persian Lover ", is a tale of Babak's never-ending adventure through life with the Iranian revolution as its backdrop. Future endeavors are to complete his three additional novels "The Call of Evil" Adventure/Romance, "Dr. Schmidt" a turn of the century romance, "Zaal" an old age Persian fantasy/adventure.
Naser's Belief is that your work should speak for itself and truly believes in the Actor, Steve Martin's statement "Be the best and they will come after you."
Patricia Shahrivar is a native to Iowa and has a great appreciation for art. As a co-owner of an art gallery with her husband she has had her hands in art for more than forty years. She grew up with art in her life with her grandmother, an art teacher to inspire her. As a student she felt a great satisfaction to be featured in the same museum as the world renowned artist, Grant Wood whom she greatly admired at the Cedar Rapids Museum of Art. 
Patricia's most current interests are portraits, floral, landscapes and abstraction. Her most current series is "My Distorted Ladies Full of Life and Color". Two of her pieces were selected to be exhibited in the current online exhibition of portraits at the CSPS Hall Gallery.
She was a recipient of Outstanding Female Artist Award in 2009 selected by Lieutenant Governor Patty Judge.  She was asked to be featured at a three month exhibition at the State of Iowa Capitol Building.
With Patricia's competitive spirit she has entered many contests throughout her years as an artist and has won many awards. One of which she place second in the Iowa Duck Stamp Competition and third in the Habitat stamp of the same year with her first time entries.
In celebration of her 10 years of overcoming kidney failure she has written her first book as a hand guide for others which educates as well as tells her journey through this silent killer. Her book is titled "My Guide to Health/ A Second Chance at Life".  In addition she has created her e-book and is offering it on Amazon/Kindle as an e-book version while her paperback edition  which is self-published is available by contacting the Artist.
She has been learning the art of screenplay writing and has received two certificates of completion of courses. Patricia and Naser work side by side on his novels and screenplays and are receiving recognition and awards.